Redesigning Skyscanner Mobile Applications.
(General Assembly school project)

Client Profile
Skyscanner is a free and unbiased travel fare aggregator and metasearch engine from the United Kingdom. It is a company founded in 2003, under the Ctrip group. It now hires over 800 staff with offices in Singapore, Edinburgh, Glasgow, London, Barcelona, Budapest, Miami, Shenzhen, Beijing, and Sofia. Travellers around the globe use Skyscanner to find the best price for flights, hotels and car rental. The users also use the price alert feature to get notifications on the price change of the flights they have selected but not booked.
Stakeholders
Our client, Skyscanner has several stakeholders, and their customer's needs and expectations vary according to the kind of device being used to access their site. For the purpose of the project, we will focus on the 2 biggest groups.
1. The Travellers
• This group will be the customers who visit Skyscanner to book flights, hotels, and cars.
• They can be your budget-sensitive backpackers, students or honeymooners looking for a "travel fare aggregator website and travel metasearch engine".
2. Business Owners and Marketing Directors From:
A. Airline Companies
B. Hotels
C. Car Rental Companies
• These are the organisations who want to connect their business to the global distribution platform.
The travelers are the users who will access the service mostly via an app for the convenience. The businesses will be the ones who will be seen mostly on the website for their offers and advertisements.
Comparative Analysis
We did a comparative analysis of Skyscanner with Kayak, Expedia, and Momondo. From the analysis, we found that most of the mets search engine provides users with a large amount of information. This often causes confusion and distraction to the users. The flexible booking feature of Momondo gives the user a clear pricing comparison chart.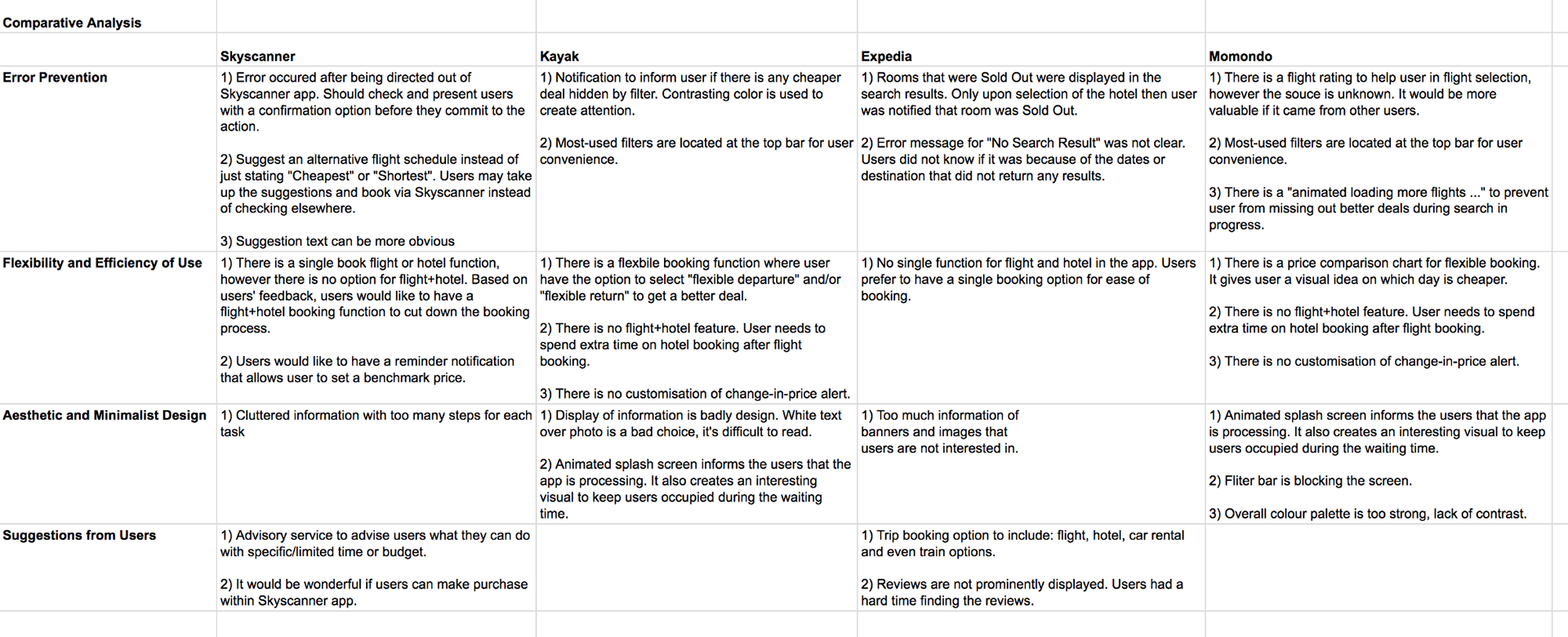 Feedback on Skyscanner from Users
Users of the Skyscanner service love it, with 72% giving it an excellent rating (i.e. 5/5) and most users agreeing that it is their search engine of choice.
However, there are a couple of issues with the app currently:
1. Bad experience with third-party agents (e.g. double booking, not responsive). No way to verify if third-party travel agents are reliable.
• Observation 1: 
Some users encountered dishonest travel agents when they tried to purchase their flights from these agents via Skyscanner. Users had to ask Skyscanner to remove these deceitful agents to avoid other customers falling prey to them.

• Observation 2: 
Currently, within the Skyscanner app, there are only ratings for the accommodation, but none for the travel agents.

2. Price alert feature or flights are useful in letting users know of any fare changes. However, it would be even better to know when it drops to a certain point that is attractive enough for booking.
• Observation 1: 
User suggested for price alerts to show only when price feels under a certain level.
• Observation 2: 
Price alerts are not present for hotels.
Although Skyscanner scored quite well against its competitors in the Comparative Analysis, we found out that there are features that are lacking and concluded on the following.
1. Improve on Flexibility And Efficiency Of Use
• Skyscanner does not have a comparison view on different prices on different dates so users can have the flexibility to choose another day if the price is cheaper. Currently, the prices fluctuate on the different timings on a particular date only.
2. Improve on Aesthetic and Minimalistic Design
• The search results display too many flight options and users may even miss out on the "best deal".
• The reviews of hotels are only based on scores but not actual reviews from users.

Planning the Design Process
My team sat down together to plan how to proceed with the whole redesign project. Before we split up the workload, we have to keep in mind the project's deadline and thus, the timeline of events is crucial.
TIMELINE OF EVENTS

You've got to start with the customer experience and work back toward the technology — not the other way around. 
My team brainstorm on the methodology we would apply for user interviews and we split the work to recruit different groups of interviewees.
We had a group of 11 users for the interviews, 5 males and 6 females, aged between 18 to 45.
We want to understand how the users use the app to make their travel bookings so we can uncover any pain points that they have. At the same time we can also note down their needs and requirements for the app.
So we drafted the questions to cover 3 main areas.
A. How they make travel plans?
1. When and where do you typically make travel plans?
2. How do you normally make your travel plans?
B. How they make travel booking (assuming mobile is not mainly planning)?
1. What device do you typically use to make your travel bookings?
2. Mobile vs. Tablet vs. Desktop
3. If prefer to use a desktop, ask why?
4. What mobile apps do you use to make a travel booking?
(Skyscanner vs rest)
C. Problems encountered in travel booking
1. Did you encounter any problems in the booking process when using a mobile app? If yes, can you list an example?
2. Do you book flights and hotel together as a package?
3. Issue with 3rd party agents — Have you encountered any bad experiences in the past with hotel bookings made through travel agents?
4. Issue with Price alert — Have you encountered any bad experiences in the past with notification alerts for fare changes?
5. Have you encountered any bookings with exaggerated results i.e. overpriced or underpriced tickets?
After our meeting in school, we scampered to look for users, who have used the app or the website before. I managed to get hold of 2 of my friends who Have used the Skyscanner app and website.
These are some feedback I gathered from my 2 avid users.
1. There is a long list of flights available and they will never scroll to the end to look through all the options.
2. The filter feature "can be better".
3. They tend to use the app just to have a look-see, but will eventually use a desktop to book.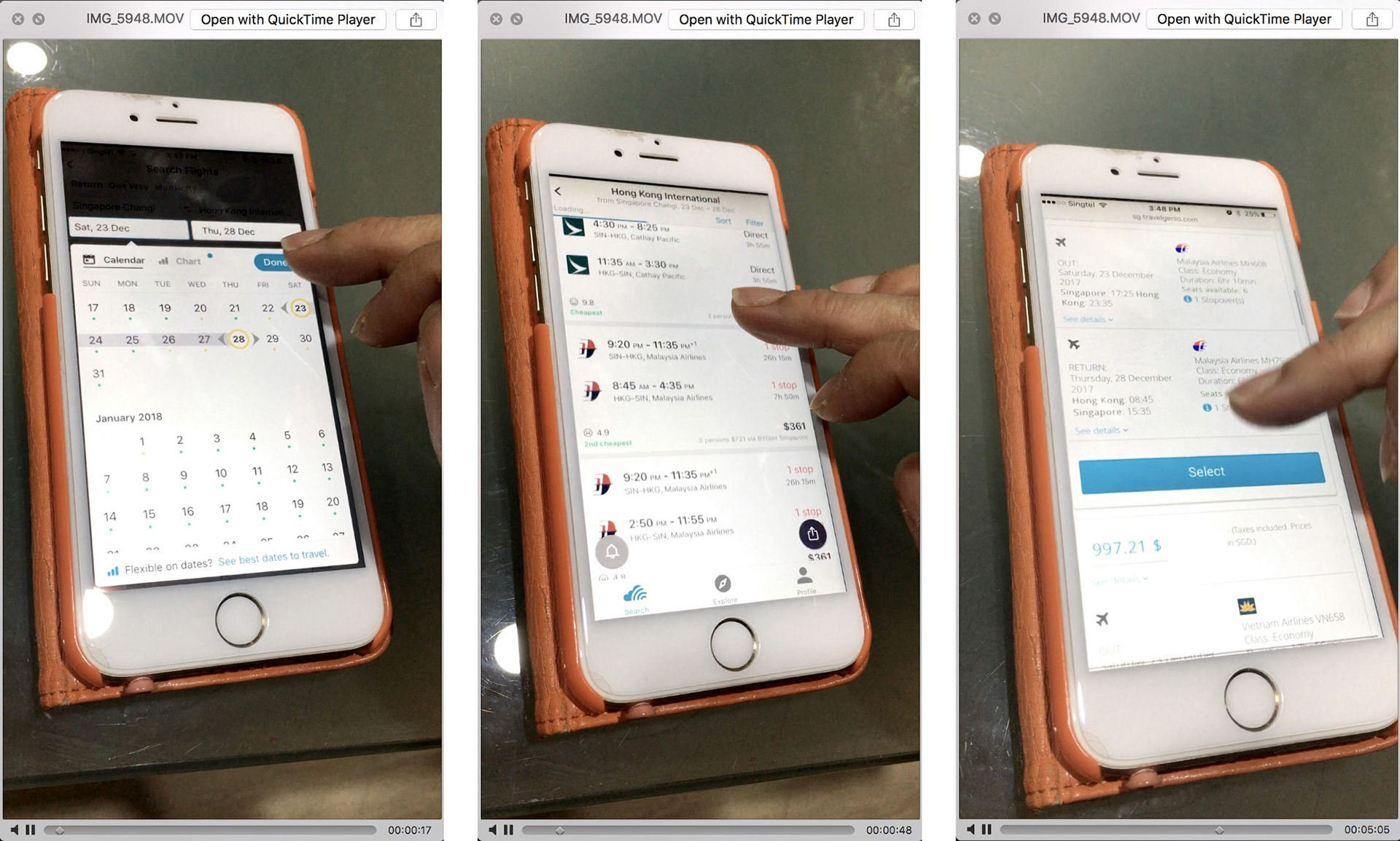 Affinity Mapping
With these information, I met up with the team and we went through the Affinity Mapping together with their group of users. We try to narrow down the "most popular" pains and needs of our users.
We had to synthesise the information we can see if there are any similarities or patterns in the travel booking behaviour of our users. We consolidated our findings and organised the qualitative data in the affinity mapping.
From these, we constructed 4 main "I statements" from the users pain points as these we validate the features that we would like to introduce in the redesigned app.

1. "I want to book a flight in the easiest way."
2. "I want to find the lowest price for my flight."
Creating Personas
From the findings that we have collected, we created 2 personas based on how much time and budget they will spend their travel plans.
We chose to redesign the app based on Jason's persona, making him the primary persona because by addressing his pain points, we would have also addressed Many's pain points. Moreover, Jason is a more frequent user of the app since he is a busy manager.


Customer Journey Mapping
A customer journey map tells the story of the customer's experience: from initial contact, through the process of engagement and into a long-term relationship. — Paul Boag.
To have a more graphical interpretation of the overall scenario of how our users will interact with the app over time, we began our Customer Journey Mapping.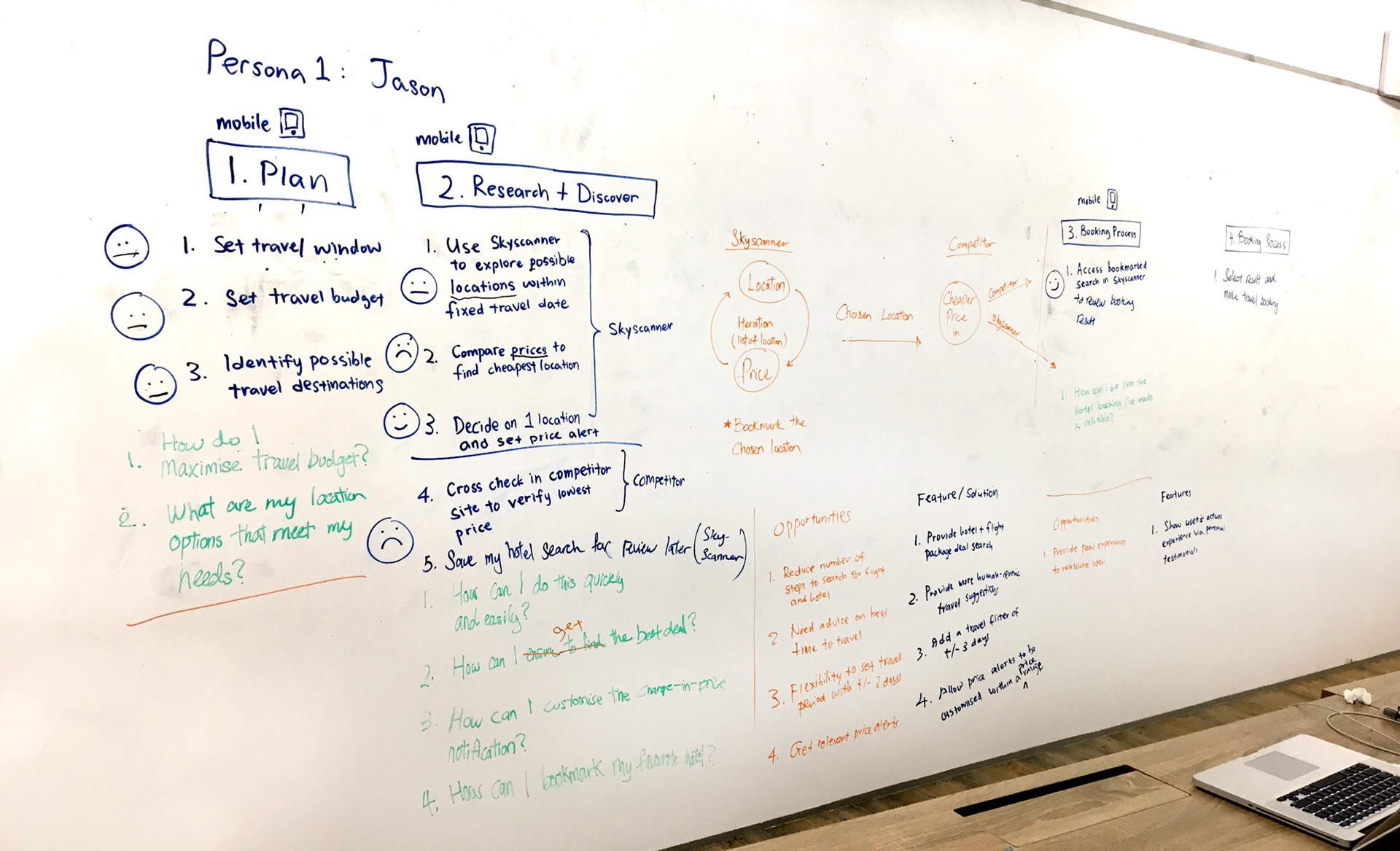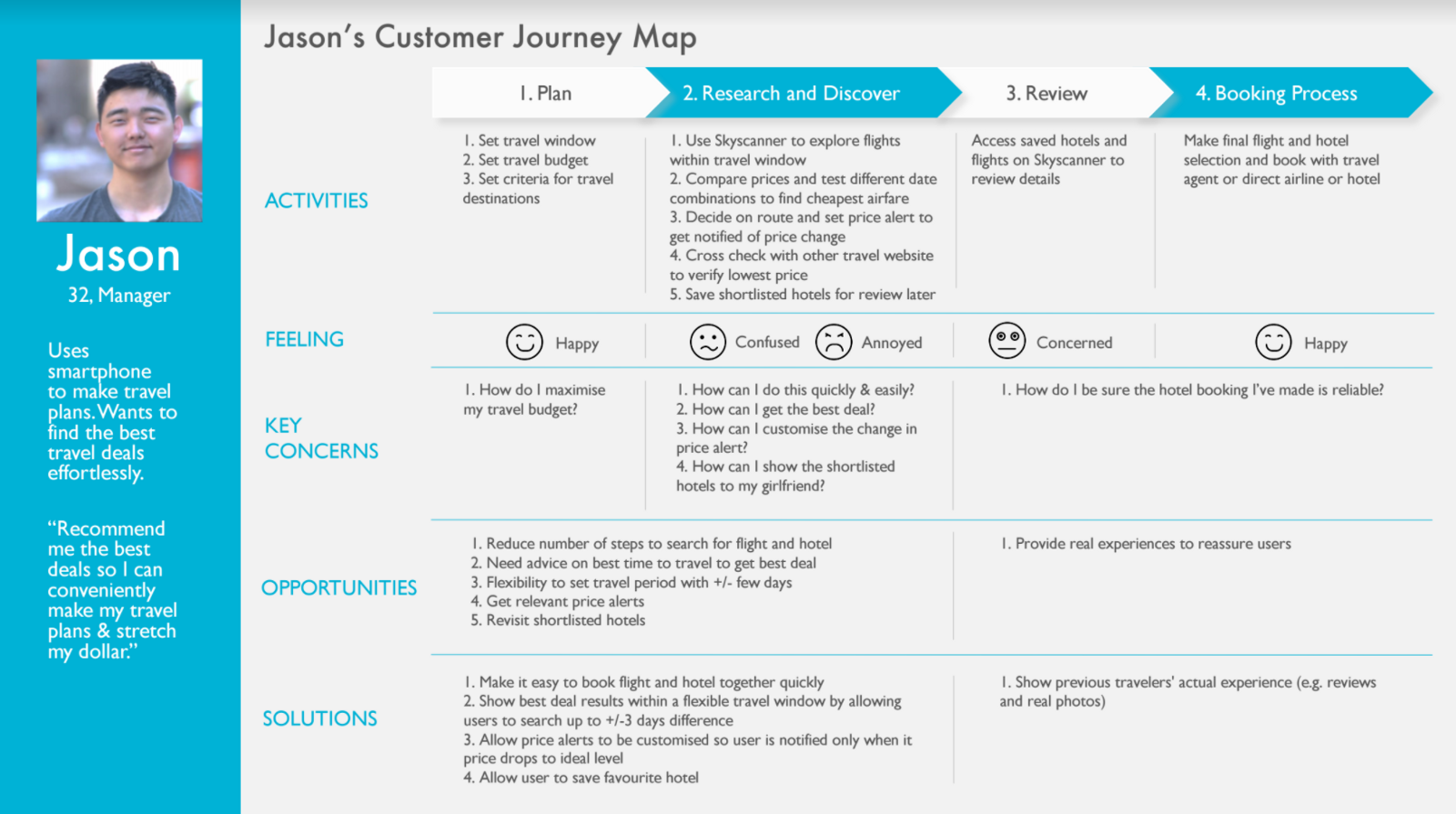 This helps us to priorities our deliverables in the redesign process. (Very useful when there is so little time to deadline.)
Based on the users' feedback and persona's pain points, we decided to include these 5 features in our new design.

1. Customise change-in-price. Notification alert.
2. Hotel reviews by actual users.
3. Bookmark favourite hotel.
4. More human-centric. Suggestion for better deal.
5. Flexibility to get travel period, plus minus 3 days.
Ideation
Before we proceed to any redesign work, we studied Skyscanner's brand guidelines to make sure that our new design will stay consistent with their corporate identity. Since Skyscanner recorded 6 million users worldwide, we have to make the app flow as closely as to the current one as we can. If the change in the user experience is too drastic, users may not get accustomed to the new flow.


Usability Testing and Iteration
My team conducted a total of 5 usability testing sessions to test if users are able to complete the tasks successfully. The users were all given the same scenario to try out the added feature.

Future Iterations And Thoughts
As mentioned earlier, we cannot change the features and the design of the app too drastically as users will have to relearn using the app. Thus, if I have the chance to work on this app again, I would like to add more features such as mobile-web integration and ability to sync profiles and preferences.
It was a rewarding experience to work with this team as we learn a lot from each other. Although we may not meet eye to eye at all times, this gives more room for debates on how we can improve the functions and user experience.
Thank you for reading!